"Total expenses in the space industry does not pay off immediately, yet the whole world seeks
to explore the space. The space industry promises enormous benefits for the future scientific
and technological progress of the humankind. Experiments conducted in the space cannot be replicated on the Earth. By gaining such experience and undertaking researches, space scientists make great discoveries.
Therefore, any costs incurred by the public sector for the space industry are justified.
The whole world is competing in this industry".


N.Nazarbayev, The First President of Kazakhstan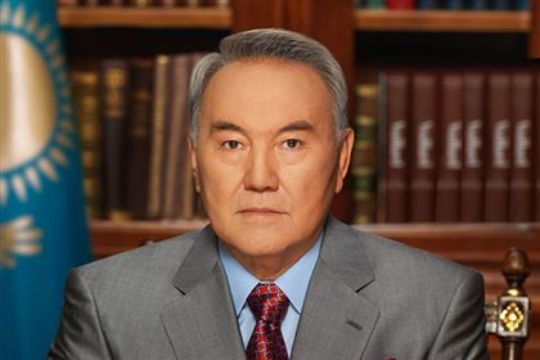 IS THE STARTING POINT FOR THE FORMATION OF A NEW DEVELOPMENT AND INVESTMENT
STRATEGY FOR KAZAKH SPACE INDUSTRY 

IS A DIALOGUE PLATFORM AIMED TO DISCUSS THE MOST EFFECTIVE USE OF THE BAIKONUR cOSMODROME IN THE AREAS OF INTERNATIONAL COOPERATION AND THE DEVELOPMENT OF NEW SPACE TECHNOLOGIES 

IS A KEY MEETING PLACE FOR REPRESENTATIVES OF COUNTRIES LEADING IN SPACE INDUSTRY, INVESTORS,DEVELOPERS, OWNERS AND CONSUMERS OF SPACE TECHNOLOGIES, SCIENTISTS AND EXPERTS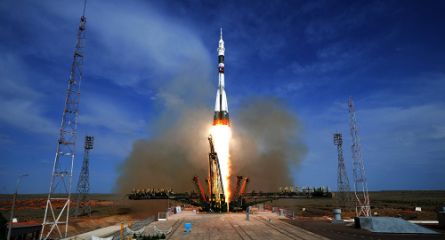 EXPECTED PARTICIPANTS
Up to 500 participants including:
representatives of space agencies, space technology developers, private
space companies, scientists, experts, prominent businessmen, media
representatives
Up to 200 foreign delegates
Up to 10 agenda events

TRACK 1
BAIKONUR COSMODROME: RESETTING
Participants of the international forum will discuss the realities and development prospects of the Baikonur
Cosmodrome, the outcomes of space industry in recent years, and development opportunities of Kazakhstan's
space industry. Cooperation with important players in international space industry and facilitation
of investment opportunities and public-private partnerships in the space industry will be further explored.
Cooperation between the public and private sectors would facilitate the efficient use of limited resources,
promote innovation and technology transfer within the framework of Baikonur Cosmodrome development.

TRACK 2
REMOTE SENSING FROM SPACE AND SATTELLITE NAVIGATION
Space technologies are widely used in various economic sectors. Space system operators provide a wide range of services in remote sensing of the Earth (ERS) and satellite navigation. Space systems allow an independent and efficient access to remote sensing data to solve problems in agriculture, emergency situations, ecology and nature management, land use, geodesy, cartography, defense, national security and other tasks. Remote sensing data analysis results are used to optimize and improve the efficiency of various sectors of the economy. In turn, satellite navigation technologies can improve the accuracy of coordinate-time
parameters, including geographical coordinates and altitudes, speed, direction of movement, and time. Also, the use of satellite navigation technologies significantly improves the optimization and effectiveness of various industry tasks, etc.

TRACK 3
THE FUTURE OF SATELLITE COMMUNICATION
Since 
the first launch of an artificial satellite from the Baikonur Cosmodrome s
atellite technologies have made a huge breakthrough in  communications and broadcasting
. The digital revolution of the 21st 
century opens new horizons for the development of satellite communication technologies. The quality of data 
transmission improves, the size of satellites decreases, and the speed of information transfer is accelerated.
Innovations in the IT industry challenge established traditional geostationary satellites, while fundamentally
new data transfer solutions are emerging.

VENUE
CONGRESS CENTER EXPO                                       The Republic of Kazakhstan,                                                                                                          020000, Nur Sultan, Sauran st. 44
Ryskulov St. 6/1
Wyndham Garden Astana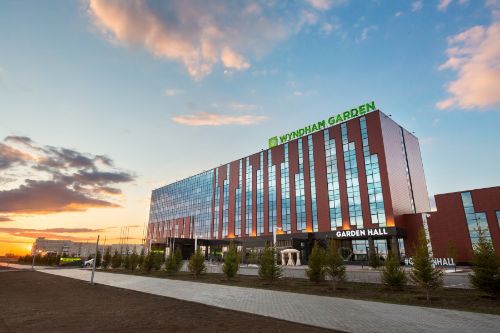 DOSTYUK st. 2
Astana Marriott Hotel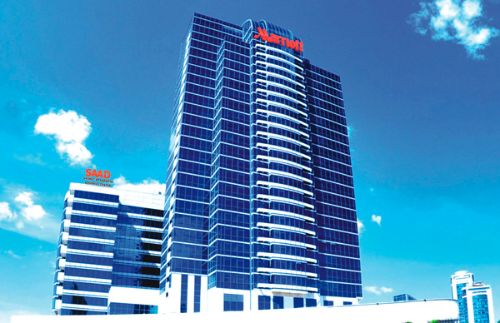 SAURAN st. 46
Hilton Astana